COSMIC TIMES TWITTER CHAT ARCHIVE
SCOTT WEIL - FILM MAKER
On February 6th, 2019 , Cosmic Times publisher Martin T Pierro hosted a Twitter Chat with
film maker / producer - Scott Weil
Here is a transcript of that conversation …
Welcome to tonight's #Twitter chat! I'm Martin Pierro & I will be chatting with Scott Weil the producer of the new film Once Upon a Superhero it will be having it's Florida premiere Friday 2/8/19. The chat will last roughly an hour. So let's jump right into this …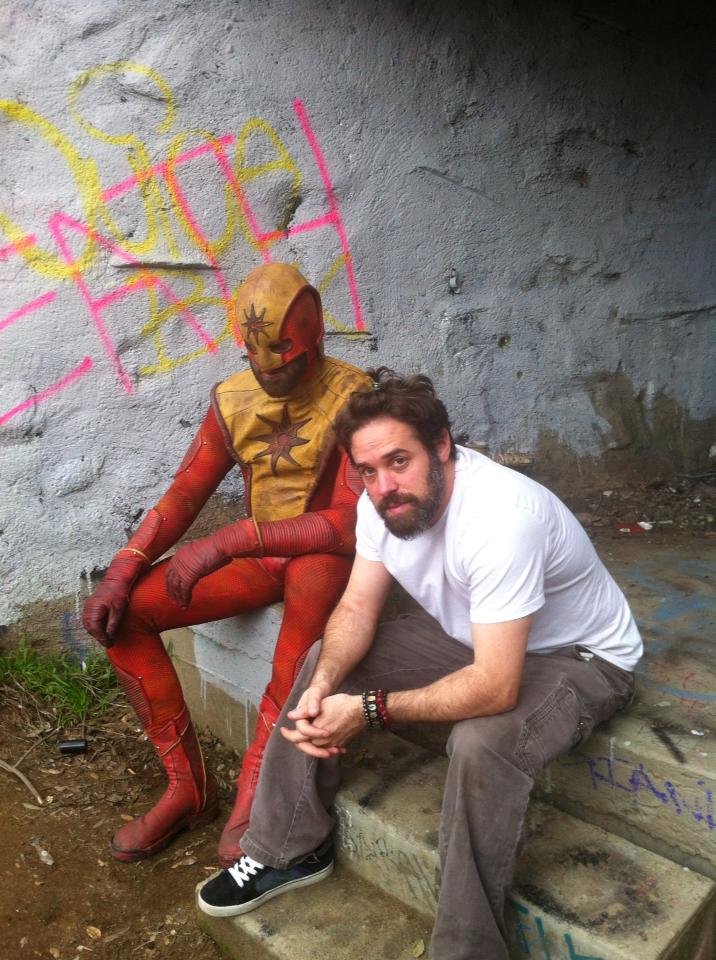 Scott Weil: Greetings Martin and everyone , so happy to be back in Florida!
Martin: It says in your bio that you moved from Long Island, New York to Hollywood, what caused you to switch coasts Mr. Weil?
Scott: I always had a love for California and the industry in multiple capacities.
So Scott, is that where you met the director of Once Upon a Superhero, John Kline … in Hollywood?
Yes, funny … he and I originally lived in the same building when I first moved out there and became friends. It wasn't until the second time I moved back to LA we began the path we have arrived at today.
You originally produced music videos, tell me a little about the music videos you worked on?
It was a brief time early in my producing career, we did a couple of videos for the LA based band The Chimpz whose music has been featured on Sons of Anarchy and other shows.
Was that the first time you were living in LA?
No, this was the second time.
After producing music videos, what made you want to take a crack at longer form storytelling?
Well …  our initial game-plan was to do two to three shorts … building the team and engine. ONCE UPON A SUPERHERO was originally supposed to be a short as well … that morphed organically into a feature which took a journey of its own.
Once Upon a Superhero wasn't your first film, "Waste of Time", was, what did you learned from making that short film?
I actually learned quite a bit, it gave me the idea of things I can get away with in the budget and where money really needed to go but in a way smaller scale. It was a confidence builder but if that was maybe equal of getting my associates in producing Once Upon a Superhero was my masters. 
Did much of the crew from Waste of Time come over with you for Once Upon a Superhero, or was it a fresh start?
A couple of people … but not really, the main carry over was Matt Louie who is the cinematographer for both films and actually just wont best cinematography at last festival we were in. 
What was the second building block was a film we never made but had casted it and was ready to shoot up until the 11th hour when it did not feel right and we pulled the plug. But that helped too and also introduced me to many actors who wound up being in Once Upon a Superhero. 
Jumping into producing for a full length feature, Once Upon a Superhero after making just one short … was that a bit daunting?
It was something none of the major players involved in getting this from point A to B ever knew. The challenge of making a feature film is a beast of its own even if you are a studio film with millions to waste literally as opposed to no budget, no permits and no rules.
No permits? Is that a risky thing to try in LA?
We always did it that way, but we also game planned and shot with very skeletal crews to not draw attention people were strategically placed.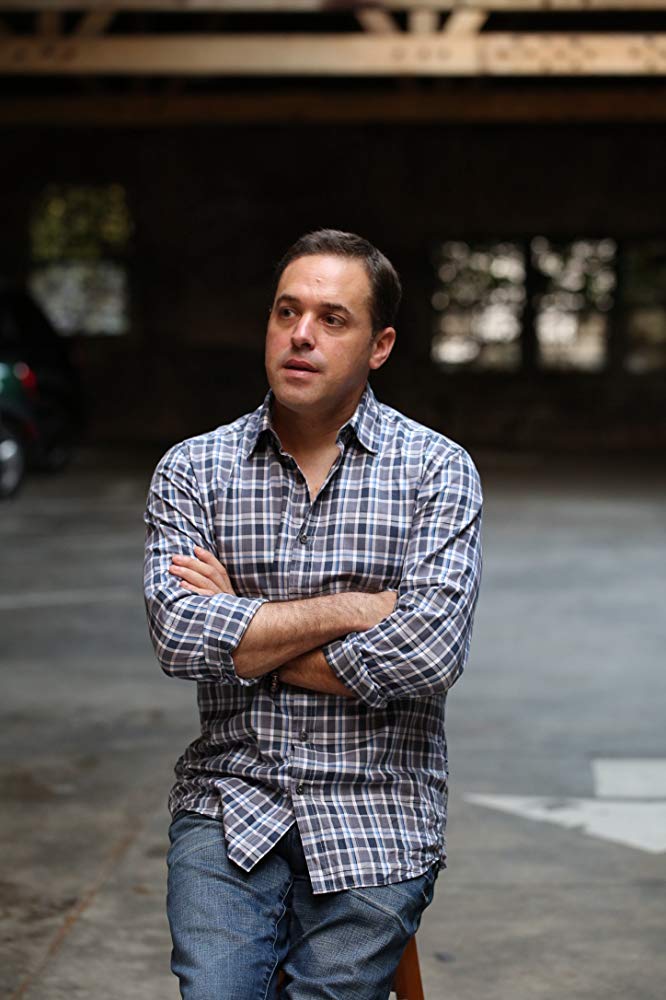 I like that – guerrilla-film making! I would imagine that had its own set of challenges. Do you feel that helped to bond the cast and crew? 
There are many things that bond us, its hard to encapsulate and especially as I am personally on the journey so deep. This film took six years to make so there was a lot that happened on the way. Certain things that seemed catastrophic at the time actually made it a better film. 
In many ways I think it's the ultimate indie and a challenge to aspiring filmmakers in the most positive way that they can do this too. We wanted this to fire people up and inspire to create and be original, not compromised studio filmmaking.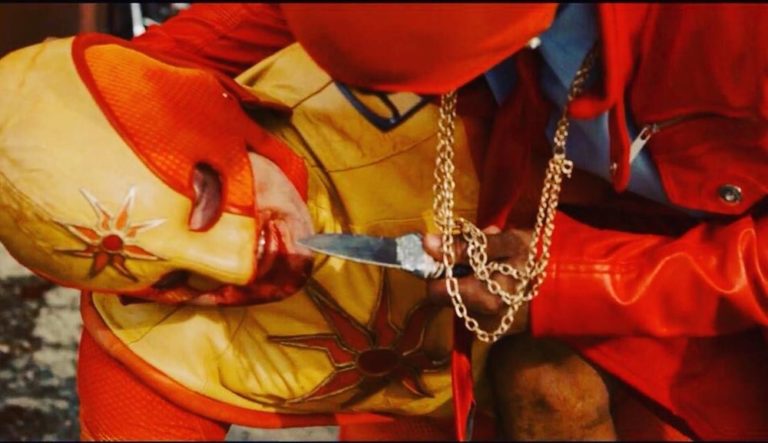 You mentioned Matt Louie the cinematographer, Once Upon a Superhero has a very real and gritty ascetic, how much of that look do you credit to Mr. Louie?
Well that was the specific look Director John M Kline had in his vision for the film and Matt and he worked with many looks and lenses together finding those proper looks that nails the feel and darkness of Hollywood boulevard and the areas around it so well. 
It's always why we urge people to see this in a theater on the big screen the way it was meant. The entire film is a moving art piece and those who attend will see what I am talking about. 
Solar Flare's costume is very textured and beautiful in a gritty way, who designed that costume?
Michael Philpot did Solar Flares costume with Johns design and together they brought the costume to life. Michael has done quite a few films as a costume designer including Spiderman 3, we got lucky to have him.
So tell me Scott, was there something that inspired the story of Solar Flare?
Well we live a few blocks from Hollywood blvd which has grown into this cosplay world down there and John would be at his local grocery store standing next to a homeless Spider-man and so on. He began to develop the story of a man exiled here without his powers in Hollywood. Which makes this film such a fascinating journey for film lovers when they see this. Everyone has a different feeling or view of who they think Solar Flare is and whether he is a real superhero or a delusional person.
What made you want to bring Once Upon a Superhero down here to South Florida for the premier at the Movies of Lake Worth?
I have a long history in this state from living here at times to many friends and family in the area that I didn't want to deprive them of the Solar Flare experience on the big screen!
I love that! Having a background in film myself, I think this area needs more indie-films on the big screen. I thank you and the Movies of lake Worth for doing that! 
… and I thank them for giving the spotlight chance for a quality movie like Once Upon a Superhero to be shown there. We have so much love and respect of true indie art house programmers.
We are just about out of time, real quick what's next for Once Upon a Superhero and what's next for you Scott? 
Well our film will continue to tour the US festival circuit and the world. On this upcoming tour we will be in Phoenix, Florida, New York, Colorado, KC and that will lead to our Hollywood premiere March 23 at the TLC Chinese theater. As for me I have some things in pre production that I would like to do in the near future after the heavy promotional aspect of this film.
Thank you for joining me on Twitter tonight for this chat. Beyond Twitter, @SolarFlareOUSH & @OUSHthemovie where else can people find out about Once Upon a Superhero and your work Mr. Weil?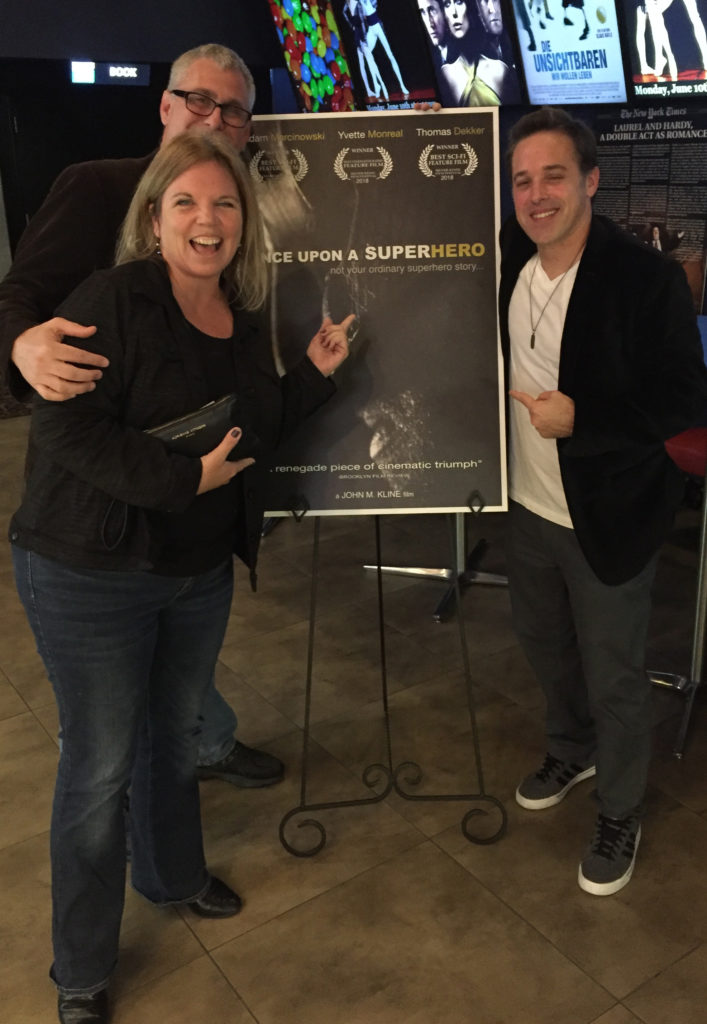 Check us out on out instagram @onceuponasuperherothemove and our website onceuponasuperhero,com, you can follow me  @therealscottywheels
Thanks so much for having me and helping getting the word out to the local community about our film , we appreciate that so sincerely !
Thanks for joining us! This #CTchat is now concluded –  Stay Cosmic!