COSMIC TIMES TWITTER CHAT ARCHIVE
On December 12th, 2018 , Cosmic Times publisher Martin T Pierro hosted a Twitter Chat with creator/writer JohnCrowther
Here is a transcript of that conversation …
Welcome to tonight's #Twitter chat! I'm Martin Pierro & I will be chatting with writer John Crowther who works with Squared Circle, Antarctic Press & Inverse Press. We will also be taking your questions. If you wish to follow along or submit a question you may do so by using the hashtag #CTchat. The chat will last roughly an hour. Let's get this thing started …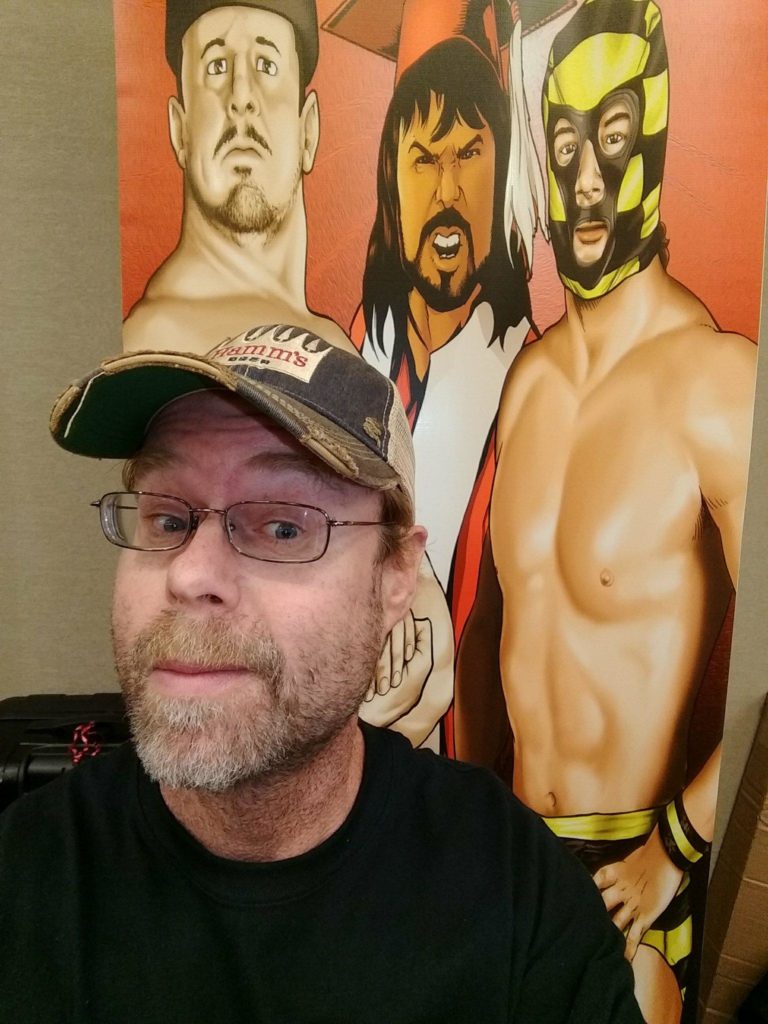 John: Thanks for having me.
Martin: So John I have to ask this question … you are a practicing attorney … why comics?

John: Ive been a fan of comics since I was a kid, gabbing old DC & Marvel books from the local Rexall.
Rexall? Was that a local drug store?
Yes…local drug store I would pass on my walk home from school. Had the classic spinner racks.
What were the first comics you remember reading as a kid?
First comic I read was an old Sgt. Rock my dad gave me, but I was a huge fan of X-Men, X-Factor, Conan. I was also a big fan of obscure indie comics as a kid.
I guess I was an innovator. LOL
We're similar in age … so were you (like) me an early fan of the Ninja Turtles … before they got big?
Funny you say that. They were working on a lot of the original Ninja Turtle books in my hometown of DeLand at the time.
As most folks here in Florida …one of your first gigs was on an issue of Fem Force, how did you find yourself working on that series?
The artist on my first book, Rochelle The Teen Cockroach was friends with the editor at AC Comics. That was Mark Heike. We connected and they ran Rochelle as an issue #O as a flipbook with Fem Force.
Speaking of your creator owned character Rochelle. Where did the idea for Rochelle come from? 
It was an idea that just because something is different doesn't mean it's bad. Hence a hero cockroach. I wanted a family friendly book for my teen daughter and wanted to teach acceptance. So I created Rochelle.
Love it! Is your daughter still a fan of the book?
Absolutely. Still cosplays periodically as Rochelle too.
Rochelle is currently being published by Antarctic Press, how did she find a home with them?
I started chatting with Antarctic Press after the Fem Force appearance. We reached an agreement & found a home. I felt (as did AC Comics) that Rochelle warranted a bigger platform, which Antarctic Press could provide.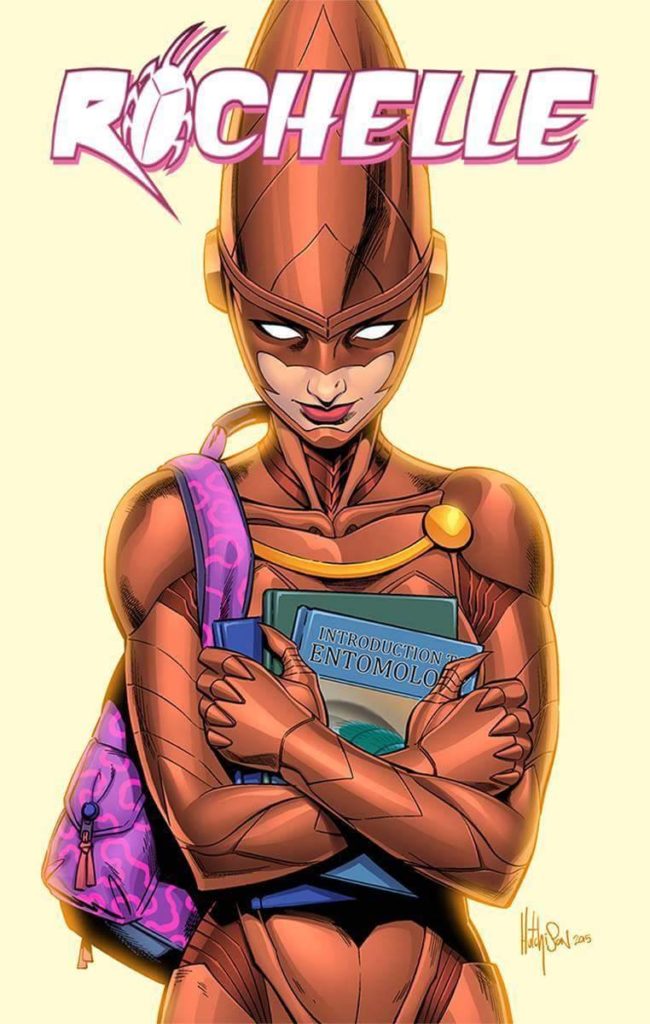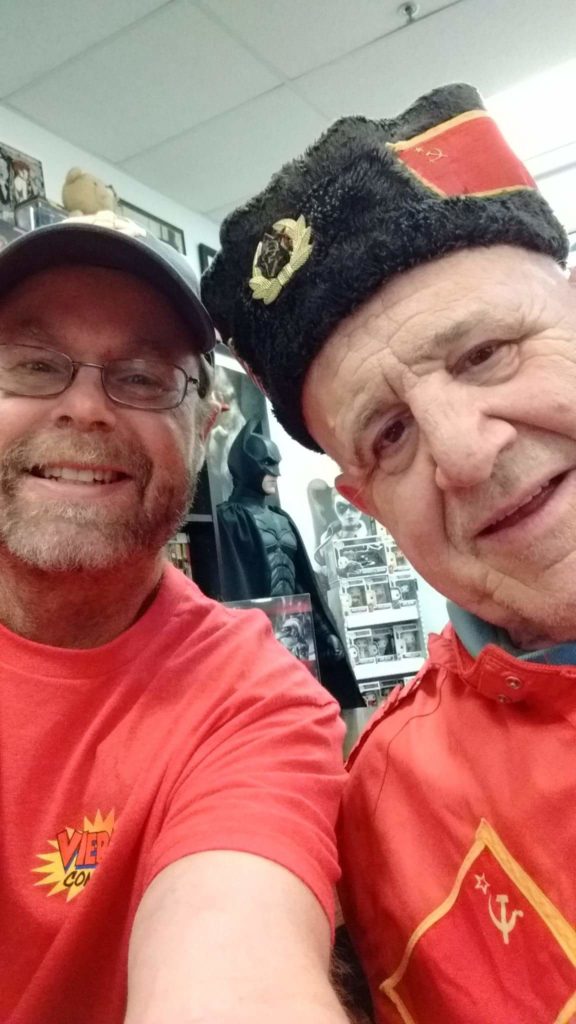 That's awesome that AC supported your move. I feel like I should know this but is Antarctic Press also a Florida company?
No … Antarctic Press is based in San Antonio, Texas and they recently opened an office in Dallas.
John, you've had success writing and creating wrestling biography comics, starting with "Nikolai, the biography of Nikolai Volkoff", what turned you in that direction?
I'm a lifelong fan of wrestling (since the late 70s). A mutual friend of mine & Nikolai connected us. Nikolai and I hit it off and became great friends. He asked me to do his life story in a comic and I couldn't refuse.
That's awesome … I had the pleasure of having dinner with you and Nikola one time and he was very nice and charming. I was sorry to hear of his passing a few months ago.
I remember that in Daytona. He was a dear friend of mine and I think of him often. Truly an amazing human being.
Did you follow Florida Wrestling in the 70s? I've never been a big wrestling fan – but I do remember Local Florida wrestling in the 70s with Gordon Solie.
Yes! Eddie Graham's Championship Wrestling from Florida with Gordon Solie. I loved it.
I was a big fan of Bugsy McGraw – I remember it well.
Bugsy! He's become a good friend too. Contributed some signed comics to our Bruno Sammartino Kickstarter campaign recently.
You have done several of these wrestling biographical comics and are currently crowd funding one through Kickstarter right now, The Rock 'n' Roll Express, hows that going so far?
Quite a few. Bruno Sammartino, Jim Duggan, Killer Bees, Bobby Fulton, & Lanny Poffo. The campaign for the Rock'n'Roll Express is going well 74% in 3 days.
Three Days?!?! That's amazing! Do you find the fan base growing with each new wrestling act you partner with?
We have a lot of return backers, but each wrestler also brings their own set of fans. Word is definitely getting out to fans and wrestlers alike.
I've seen you at a bunch of comic book con and events, have you setup at any wrestling events with these books?
Yes…we've actually set up at the last two Wrestle Con events for Wrestle Mania weekend in Orlando and New Orleans.
That's great, expanding your market – have the books been well received by those crowds?
Absolutely. Wrestling fans love them. They've also been carried by several subscription services, like Pro Wrestling Loot.
Here is a complex question that we may never truly unpack – how do you see crowdfunding fitting in with the ever changing landscape of comic book publishing?
If done correctly, it's great. It allows creators to get their product in front of a large unfiltered crowd (and retain more revenue). But, if done incorrectly (e.g., poor fulfillment, poor product) it can backfire on crowdfunding as a whole.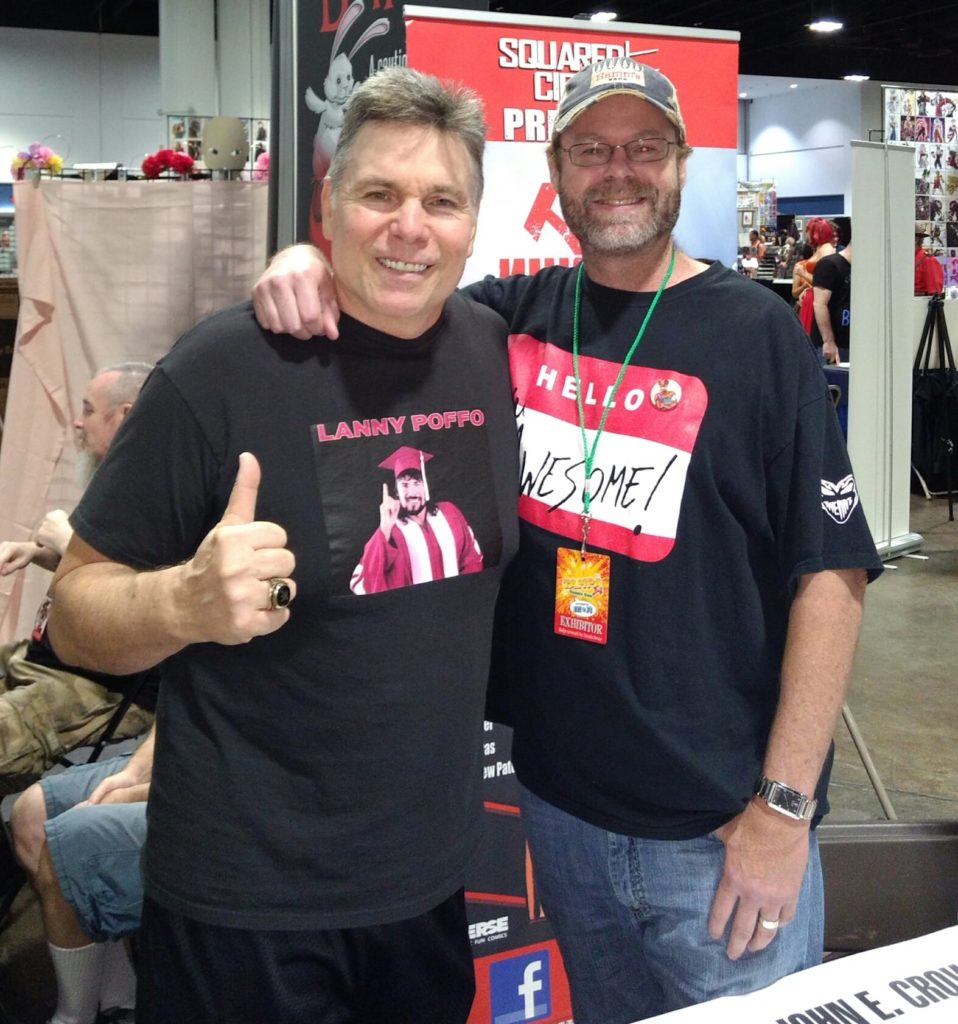 So the mistakes of others can hurt the community as a whole?
Absolutely.. mistakes by others can cast a pall over the whole idea of crowdfunding. It can illicit fears of monies paid for no, or bad product.
I hate to say it but … we are just about out of time, real quick what are you currently working on? What can we expect from John Crowther in 2019? 


Lots more wrestling comics, as well as more from Antarctic Press (I'm a writer on a pair of stories in Exciting Comics & I'm working on a collection of horror shorts.
Thank you for joining me on Twitter tonight for this chat. Beyond following you on Twitter, John where else can people follow you and your work?
Thanks for having me! You can find me on Facebook and Instagram, as well as my website: http://www.rochelletheteencockroach.com

Thanks for joining us! This #CTchat is now concluded, I believe in the near future I'll be chatting with John's partner Kevin LaPorte – so look for that and stay cosmic!